"CATS: LA PELÍCULA" SE ESTRENA HOY: ¡DISFRUTA DE LA MUY ESPERADA BANDA DE SONIDO!
INCLUYE LA CANCIÓN ORIGINAL «BEAUTIFUL GHOSTS» DE LOS NOMINADOS AL GLOBO DE ORO TAYLOR SWIFT Y ANDREW LLOYD WEBBER, Y «MEMORY» INTERPRETADA POR JENNIFER HUDSON JUNTO A FRANCESCA HAYWARD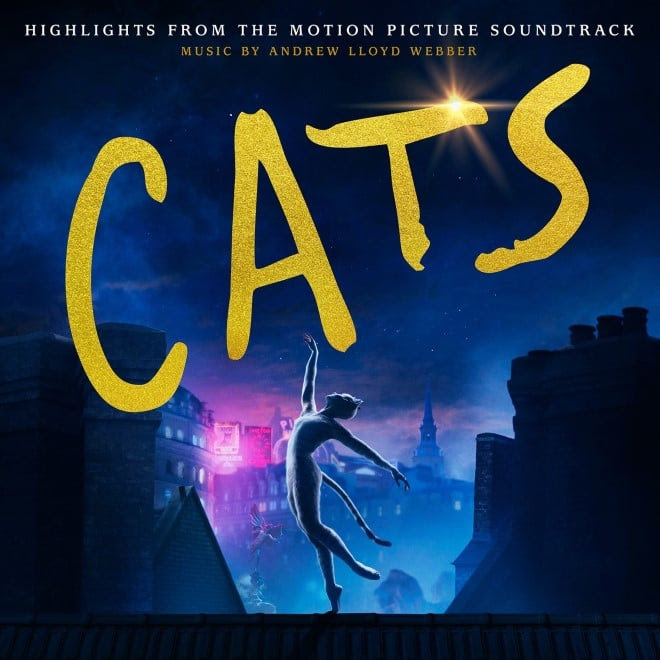 La esperada banda sonora de la película, que llegará a los cines el 9 de enero de 2020, ya está disponible, dirigida por el cineasta ganador del Oscar® Tom Hooper (Les Misérables, The King's Speech), y protagonizada por James Corden, Judi Dench, Jason Derulo, Idris Elba, Jennifer Hudson, Ian McKellen, Taylor Swift, Rebel Wilson y presenta a la bailarina principal de Royal Ballet, Francesca Hayward.
«Cats: Highlights From The Motion Picture Soundtrack» presenta las canciones icónicas y la música de Andrew Lloyd Webber, incluida «Memory», cantada por Jennifer Hudson junto a Francesca Hayward, así como una colaboración con el ícono de la música global Taylor Swift en la nueva canción original que escribió con Lloyd Webber, «Beautiful Ghosts».
La pista es interpretada por Francesca Hayward en la película y por Swift en los créditos finales de la película, ambas versiones aparecen en la banda sonora. Un video oficial de la letra de la versión de Swift también está disponible.
Otras canciones en la banda sonora de 16 pistas incluyen las clásicas «Jellicle Songs for Jellicle Cats», interpretada por el elenco de la película, «The Rum Tum Tugger», interpretada por Jason Derulo y «Macavity» interpretada por Taylor Swift con Idris Elba.
Cats: The Original Motion Picture Soundtrack
Music by Andrew Lloyd Webber
    Tracklisting:
Overture
Jellicle Songs for Jellicle Cats – Cast of the Motion Picture CATS
The Old Gumbie Cat – Rebel Wilson feat. Robbie Fairchild
The Rum Tum Tugger – Jason Derulo
Bustopher Jones: The Cat About Town – James Corden feat. Jason Derulo, Cory English & Idris Elba
Mungojerrie and Rumpleteazer – Danny Collins, Naoimh Morgan & Francesca Hayward
Old Deuteronomy – Robbie Fairchild feat. Judi Dench
Beautiful Ghosts (Victoria's Song) – Francesca Hayward
Magical Gus
Gus: The Theatre Cat – Ian McKellen
Skimbleshanks: The Railway Cat – Steven McRae feat. Robbie Fairchild
Macavity – Taylor Swift feat. Idris Elba
Mr. Mistoffelees – Laurie Davidson feat. Robbie Fairchild, Judi Dench & Francesca Hayward
Memory – Jennifer Hudson feat. Francesca Hayward
The Ad-dressing of Cats – Judi Dench
Beautiful Ghosts – Taylor Swift